Our next litter of German Shepherd Puppies is due 23rd April 2016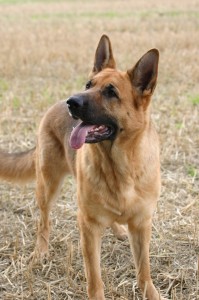 Oh, I can't wait for these pups!!  This will be Mabels' second  litter and is a repeat mating to the wonderful Giggs – Hawksglen Zorro at Belladiable.
Pups from Mabel and Giggs first litter, born December 2014 are eye catchingly good looking, well put together, with excellent proportions and conformation and they have the most wonderful temperaments.
Giggs and Mabel both have excellent health screening and are straight backed, high hocked examples of the breed.
Christinwood puppies are very well socialised, raised within the family environment and played with all day, every day by all age groups and as many visitors as we can muster!  Puppies are raised hearing all the sounds of a busy household, and by the time they leave for their new homes have been for a car ride, experienced visiting the vet and will have begun to get used to a collar and lead.
Once you have decided to make one of our pups a member of your family, I encourage you to visit and play with the puppies, helping to form an early bond between you and your new pup.  These visits give you the opportunity to see your puppy developing and give you the chance to ask any questions that you have about raising and caring for your new addition.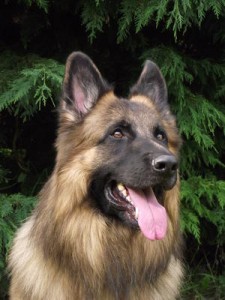 All pups are KC Registered, Insured, Wormed, Microchipped, Vaccinated, Vet Checked and Certificated and leave for their new homes with Food, Wormers, Blanket, Goody Bag and an extensive Puppy Pack containing all relevant KC Papers, Diet Information and Advice sheets.  I expect all new owners to sign a Contract of Sale, ask me for advice if they need it, send me regular updates and photos and accept that I am very soppy about my pups!
Please feel free to contact me if you are interested in this litter.