Esme is the daughter of our own Mabel, sired by Giggs – Hawksglen Zorro at Belladiable.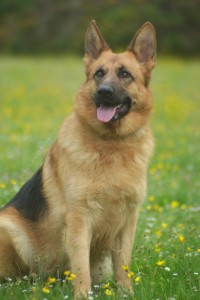 Retained as a brood bitch hopeful, Esme is simply beautiful, with her light colouring inherited from Mabel, her size and fluid movements inherited from her grandmother Sissie.
Esme is a very loving girl, playful when she wants to be but with an aloofness that belies her age.
It became apparent whilst she was still quite young that Esme wasn't brood bitch material and she was spayed at a year old.  She now holds a very special place in the pack here at Christinwood as a delightful and gorgeous member of our family.